Samba Ndojh NDIAYE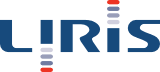 Softwares :
MCIS computes a maximum (connected) common induced subgraph of two graphs.

It is distributed under CeCIL-B FREE SOFTWARE LICENSE


References :

C. Mccreesh, S. N. Ndiaye, P. Prosser et C. Solnon. Clique and Constraint Models for Maximum Common (Connected) Subgraph Problems. CP'2016.

S. N. Ndiaye et C. Solnon. CP Models for Maximum Common Subgraph Problems. CP'2011.
COPYRIGHT (C) 2019 SAMBA NDOJH NDIAYE. ALL RIGHTS RESERVED.
SITE OPTIMISÉ POUR FIREFOX