Les grands courants de l'IA (rappel)¶
Cognitivisme, représentations materielles, théorèmes logiques. Turing, A. (1936), Newell & Simon, H. A. (1976), Fodor, J. A. (1983)
Connexionnisme, micro et macro-représentations, réseaux de neurones. McCulloch, W. S., Pitts, W. (1943), Rosenblatt, F. (1962), Hopfield, J. J. (1982)
Enactivisme, auto-organisation, cognition incorporée. Maturana, H., Varela, F. J. (1973), Varela, F. J., Thompson, E. & Rosch, E. (1991)
Approche dynamique, systèmes complexes, représentations émergentes, paralellisme et complexité, stabilité et robustesse, systèmes multi-agents. Thelen, E. & Smith, T. B. (1993), van Gelder, T. & Port, R. F. (1995), Crutchfield, J. P. (1994), Mitchell, M. (1998) Steels, L. (2003), Rocha, I. M. & Hordijk, W. (2005)
Méthode connexionniste et neurones formels¶
Énaction et cognition incorporée¶
Enaction et représentation¶
Illustration modifiée par Varela montrant à la fois la perception d'un oiseau et d'un observateur qui imagine le système (oiseau, environnement) d'un point de vue cognitif.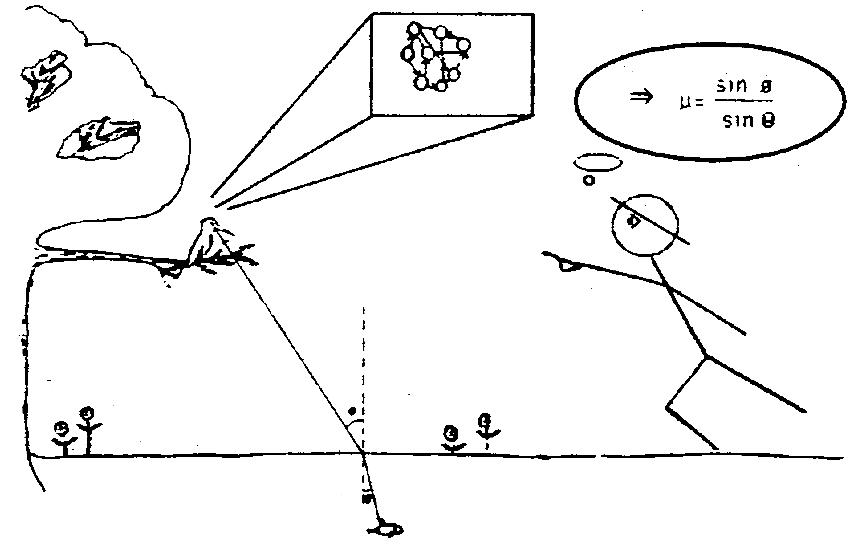 Varela, F. J. (1989c). Invitation aux sciences cognitives. Paris: Editions du Seuil.
Dérive naturelle, auto-organisation¶
Selon Maturana, un être vivant pour être soumis à la sélection naturelle, doit commencer par exister.
Maturana, H. & Mpodozis, J. The origin of species by means of natural drift. Rev. chil. hist. nat. [online]. 2000, vol.73, n.2, pp. 261-310.
Phénomènes sociaux et communication¶