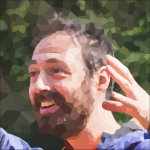 Presentation
I am an assistant professor in the Origami group, LIRIS, at Lyon University (Université Claude Bernard Lyon 1). My research is mainly focused on surface sampling, with applications to rendering and automatic mesh generation.
Contact
Université de Lyon
Batiment Nautibus
43 boulevard du 11 novembre 1918
69622 Villeurbanne cedex, France
Teaching
M1IF27 : synthèse d'images
LIFAPC : algorithmique, programmation et complexité
CGDI : computer graphics and digital images
Publications
Scientific mediation with MATh.en.JEANS
MAth.en.JEANS is an association which aims at popularizing maths in middle and high school by placing the pupils in research situations, with the help of an academic providing a problem and sparse directions.